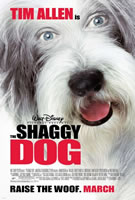 Click for Larger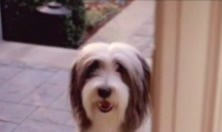 Photo of "Coal" -(his actual name) from the movie remake of the Shaggy Dog.
| | |
| --- | --- |
| | Morphing at the computer |
Photo of stunt double
"Joey"
Tim Allen is a lawyer, Dave Douglas, who doesn't spend much time at home with his family. Suddenly he begins to transform into a dog (the old ancient ring trick). Of course his capers chasing cats (interupting his career) and conflicts with his evil arch rival (Downey) makes him a better man (?).
Check out the rest of our Beardie Description Section and look at the No Puppy Mills web site to find out what a puppy mill is and why you should avoid pet stores selling dogs.




For larger images - click the photos
The Shaggy Dog (March 10, 2006)
Tim Allen Stars in this Walt Disney Productions remake or sequel to "The Shaggy D.A.. The balance of the cast is: Kristin Davis, Robert Downey, Jr., Danny Glover, Spencer Breslin, Zena Grey, Shawn Pyfrom
What breed is the shaggy dog in the movie? A Bearded Collie

If this movie makes you want to buy a Bearded Collie (shaggy dog), then we ask you to think twice. Are you ready for a difficult to groom dog? Check out our Reasons not to own a Beardie. And if you want to help prevent abuse by puppymills - then be sure to find a good, reputable breeder. Do not purchase from a pet store. We suggest you check out the BCCA web site for litters and breeders - look here. Be sure to also look at these pages. Beardie Breeders and Puppy Prices on the BCCA web site (more articles there) and click the links at the top of this page or check out the index page right here on this web site for a huge resource of information.
Whenever a major movie comes out with a dog breed as a star, many people rush out on a whim thinking they must own that breed. We love to promote the Bearded Collie, but honestly you have to have the time to groom their long double coat (often a hour or two a week). If not, then get ready for skin problems and a highly matted dog that you will have to shave down. Shaggy dog breeds also get mud, sticks and even poop caught in that long hair.
The owner of this web site has worked for years in Beardie Rescue and also in puppymill auction rescue. Many of the Beardies mass produced by commercial mills for pet stores have temperament issues and health problems. Some never recover and the owners end up hating the breed. Don't make the mistake of impulse buying - and if you research this web site and others, and still think you want a Beardie, be prepared to wait. Good breeders do not produce many puppies in a given year - maybe a couple litters tops. But DO go to a good breeder (otherwise you may be sorry - that is our honest opinion)
Think twice ( or more) before purchasing a shaggy dog breed. Do your research, make sure everyone in the family is prepared for the upkeep, and most importantly - pick a really good. ethical, breeder. Don't get a dog on impulse just because you saw it in a movie.
Not all breeds are for everyone and they may not be the right dog for you or your family. When you add a Beardie to your family, it may be for 12 to 15 years. Be sure the size, personality, exercise requirements and grooming commitment all meet your expectations.
The Bearded Collie, also called a Beardie is a wonderful dog breed. He is cute and smart. But he can take a lot of grooming to look like this.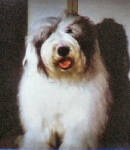 click for larger video capture
Welcome to Mooseport ( Feb 20, 2004) has several dogs, one may be a Beardie. If you see the movie, tell us if he has a tail and what his name is.
Gene Hackman, Maura Tierne and Ray Romano