Hobo's Beardies In the Media
PAGE 2- Books, Magazine and Newspapers
(Back to Page 1)
Hobo tries to Keep up with Bearded Collies in Movies, On TV, or in the News
Here are some examples Found. Email Hobo if you have something to add!
---
MaryBillman.pdf

Mary Billman, who bred Hobo, has a nice article in April 2003. Click the link on the left to read in acrobat reader format. PS - Maya is Beardie

Sunday Boston Globe March 17, 2002

"Norton a newly groomed bearded Collie walks Duxbury beach with owner Sheila Lynch"
September 2001 Land's End Catalog

Click the image to see larger

These found in the September 2001 issue of rosie (magazine)
"Putting on the dog" starttng at page 148
Click on an image to see larger.

The Beardie is William (Ch. Desertstorm American Pride). Owner Judy Bard

Harlan Coben - owns Chloe. Esperanza's Dog in his Myron Bolitar books, and in TELL NO ONE (June 2001) as Beck's Beardie. America's cutest clue is Chloe. - Winner of the Edgar Award, Shamus Award and Anthony Award. Now you can have your mystery and beardie fiction at the same time. Hobo was delighted when Harlan and Chloe wrote him to tell him of this new page with Chloe's Picture!

Now a New York Times Best Seller!

These are great books - and don't miss TELL NO ONE - which is sure to become a best seller! (see - we knew it when it came out!)
Hobo was in Florida Today April 25, 2001 Where his advice Column was featured
Hobo was also mentioned along with his Beardie Brother Rags in Dog Fancy Magazine January 2001
And in our local newletter in June 2001 - Both articles for heroism (Rags being the primary hero)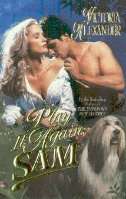 Now Click on the picure or Here and see the real Sam. Sam and his mom visited us on the net (and maybe soon in real life) and sent his picture for the Gallery at Beardie Net. Play It Again, Sam - by Victoria Alexander (ISBN: 0505522470) is a romance novel written from a Beardie perspective. The author has written other dog related books - such as Santa Paws - an a series called "It's a Dog's Life." Available online from Amazon Books
The Westminster Kennel Club Dog Show - Here are some Nice Pictures from 1997
Detroit Kennel Club Show March 7-8 1997, Claudia McNulty and Trent were captured by Detroit Free Press photographer Andrew Johnston for the March 9th Local News section.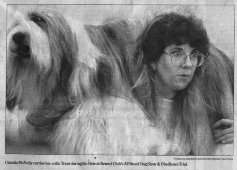 Claudia carries Trent into Cobo Hall
Click the picture for a larger image (27K),
Claudia is a member of theGreat Lakes Bearded Collie Club
SEE RALPH LAUREN's BEARDIE picture (actually a mix of unknowns).
A beardie in a cartoon from the New Yorker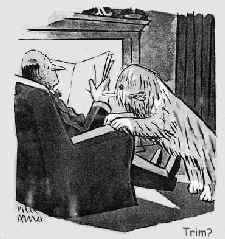 Note: We try to provide Credit and Links to all stories listed. Permissions obtained or an attempt has been made to obtain permissions. Do not copy these files or any images without permission.
Bearded Collie home page is http://beardie.net/hobo/