Welcome to BEARDIE.NET

Bearded Collie Information and Descriptions
Home Page for finding Beardie web sites.
Each of the web site and pages located at this site are the property of the individuals
or organizations indicated on their respective pages. They are maintained
by Beardie Net as a voluntary service. Please contact the individuals
indicated at each location if you have comments about their content.
Visit the following Sites by clicking on the image or link:

Everything about the Breed
Hobo the Bearded Collie)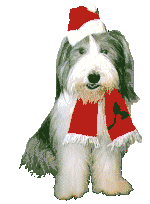 Hobo's First Christmas
Hobo's First Christmas (No Java Applet Please)

Check out the Beardie Net Gallery.
--------

.


B-BOP BeardieList Beardie Owner's Pages
(formerly Beardies-l)
.

.

- Hobo's Brother Checkers-
Rainbow Bridge
Rags - Hobo's adopted rescue Brother
---

.
Technical Comments?
Email Webmaster at gdshort@beardie.net
Note that individual pages are authored by their owners
Bearded Collie - a dog breed you will love.