HOBO's PAGE for VALENTINE'S DAY

Scroll Down to read Page
Love looks not with the eyes, but with the mind;
And therefore is winged Cupid painted blind." --William Shakespeare

.............(c) baby Hobo Cupid 1997-2004 G D Short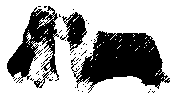 Daisy + Hobo


HAPPY VALENTINE'S DAY
Beardies are White and Black, Brown or Blue
We give you love and some fun times too

HOBO's Love is Daisy in Japan

FOOD for Your Valentine (Hobo's Favorite Topic so we will start here!)
"Love doesn't just sit there, like a stone, it has to be made, like bread, re-made all the time, made new." --Ursula K. Le Guin
FUN STUFF YOU CAN DO

"Love is, above all, the gift of oneself." --Jean Anouilh

Send a Card
We are shaped and fashioned by what we love" --Johann Wolfgang Von Goethe

eCardia - special because they asked us for a link !
Send Flowers or Gifts
"To love is to receive a glimpse of heaven." --Karen Sunde

Some General locations about Valentines Day
"No three words have greater power than 'I Love You'" --unknown
Saint Valentine's Day - Day of Valentine is celebrated with so many reds has a certain significance of which, of course, few are aware.

LOVE IS NEVER HAVING TO SAY I LOVE YOU - Love Story
This Page contents , except where noted, Copyright Glenn Short
hobo@beardie.net all rights reserved © copyright -1996 - 2008