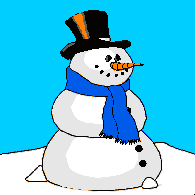 (C)....(A)
"Hobo, you are a good little puppy," said the Snowman. "But you have a lot to learn. For example," he exclaimed, "you won't make friends by chewing on their hands and arms!" Hobo let the snow now melting in his mouth drop slowly to the ground.
"OK, I know you didn't do that to be mean," the Snowman went on, "so I will try to answer your question." "Christmas is a time of wonderful things, cold weather, at least here in the North, allows us Snowmen to live short, but good lives." And, in the North, very far North, there is a special place with a special person called Santa Claus. It is his magic, you know, that allows Snowmen to come back each year to continue their lives. Did I ever tell you about the famous Frosty? Well I'll tell you my boy, he is a great and historic person. And the tales he'll tell you.. ha, ha....HEY,...OUCH ooh, stop that you'll ruin it!....Get out of here!"
"I'm sorry," said Hobo. He had absently gone back to chewing snow, not realizing he had taken the carrot the Snowman used for a nose, (Beardies like carrots). But too late, as the Snowman seemed frozen in silence.
Page 2