HOBO's Christmas Links
Note: you can exit frames on the intro page at the bottom and come back
HOBO's First Christmas- Read the Story of Hobo's First Christmas. Hobo helps save Christmas from the Evil Claws. It is a tradition since 1996. Maybe you have read the story - but the link is here because this page is now used by many as a Christmas Resource.

USE The Banner to link our site on your page!
---
START WITH HOBO's Picks
Santa Central (was Santa's Online Workshop) - We love Santa!
- something for everyone from Santa's family - get letters from Santa
The North Pole 's- Send Santa email and Feel the true spirit of Christmas by doing something good for someone in need this Holiday Season. This page will only take a few minutes to visit and you just might come away with a good feeling about people and the holidays!
Happy Christmas.com - Christmas with a humorous twist. Share your Christmas catastrophes, the most useless gift you've ever received and more! Even send an electronic Christmas card!


Build a Snowman online! - still one great place for fun
International Christmas Traditions - Sugested by some of the kids at Elm Grove Community Services Center - much appreciated!
Christmastown SeaWorld Parks - Christmas Town is a really cool part of Busch Gardens parks that features over 20 all-new Christmas attractions, shows, rides, and dining options - lots of fun for the whole family!
AND... some more DOG friends....

Heartfelt Impressions - Patty Burke -BEARDIE CHRISTMAS CARDS! Patty's has a bichon Max who's best friend is a Beardie Riley
---
Some more
Bethany Roberts' Christmas Fun For Kids and the young at heart
CHRISTMAS.COM - The name says it all - special Thanks for Santa's Face on page 6 of story (modified for story) see credits- my friend for Santa's picture.
Christmas Games & Party Ideas For Kids, Family & Classroom
Christmas in Virtual Finland Reindeer country.
Christmas 'Round the World (Wide Web)
Claus.com - (hopefully will be up for Christmas) are you naughtly or nice?
Homepage for the Holidays
Let There Be LIGHTS! - Car lights that is, for Christmas
Santaland - traditional
Santa Claus Live - Finland
Santa Live from the North Pole -
Santa's Net
Santa's North Pole Party
Santa's Secret Village! (Northpole.com)
Santa's Workshop - In many languages
SantaClaus.com - Santa has sure gone cyberspace!
Search for the Meaning of Chrismas looks at Christmas Traditions
Christmas on the Web
---
Silly, Funny.....
Comedy Bytes! Christmas Funnies
HAPPY CHRISTMAS
---
MORE STORIES
A Christmas Carol by Charles Dickens - the whole thing on the net!
Christmas Stories.com
Dulce Domum, the Christmas chapter from The Wind in the Willows, by Kenneth Grahame.
The Christmas Page Best place to read all the Christmas Stories
The Gift of the Magi, by O.Henry.
Selections from Good Stories for Great Holidays, by Frances Olcott Jenkins (1914)
Religious - Hobo's pages respect all religions and are maily for fun. But we feel that some of you wish to see the following type of links:
All About Jesus Christmas Celebration
Christmas in Cyberspace
---
FOOD - Yum
Christmas-Cookies.com
Christmas Recipes .com
Gingerbread House Instructions and Recipe
History of Gingerbread
Vegan Christmas or Yule - Many unique recipes
---
Toys and Gifts and Trees. etc.
4GiftGiving.com offers beautiful products to satisfy your Christmas and home decorating needs (including trees, wreaths, etc.)
Real Christmas Trees- from Captain Jack's Christmas Tree Farm
Christmas Tree -- USA Where Real Christmas Trees Farms Are
Delong Farms - Trees, Midi Music (special) and a CONTEST
Maine Made Christmas - lots of nice ornaments, wreaths and centerpieces
---
Places you can send a online greeting
( check other link descriptions as well)
eCardia - special because they asked us for a link ! We appreciate being noticed. And they have nice cards too.
123Greetings
A w e s o m e A n i m a t e d
A Free Greeting Card
Blue Mountain - still one of the best
Care2.com
E-greetings
Franciscan Cards - even a beardie card here
Santa.com has an area for e-cards

---
Best Graphics and Sounds for You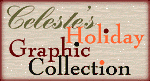 Backgrounds and Images can be found at Celeste's Holiday Graphic Collection, also images, buttons, lines, etc.. If you are interested in Holidays, make this a stop.


If You want lots of animated gifs try Dream Artists (also known as Wagontain), also lots of kid stuff
www.YuleLoveIt.Com Over 2,000 FREE Christmas Files (Backgrounds, Midi's, Clipart, and Animated Gifs)